photo from Greenland by kaet44

A little while ago I had a mini "Iceberg Series", and I thought I'd finish it off with a post about REAL icebergs. The other posts in the iceberg series are On Overcoming Obstacles followed by Think And It Shall Be So.
Many people are concerned about global warming, polar ice and sea levels, so I thought I'd write about some of the things I discovered about these when I was writing books about climate for the 8 to 10 years age group, over last (Australian) summer.
I am not covering the causes and extent of climate change here—that is done very well elswhere. This is just about the ice.

Floating ice
There's lots of ice floating on the sea at both the north and south poles—especially at the north pole which is covered by the Arctic Ocean. When any of this ice melts, the sea level rises—but this doesn't happen in the way we might think.
It's not actually the water from the melted ice that contributes to a rise in sea level. This is because floating ice is mostly underwater anyway, and because ice has a lower density than water… as ice melts the lattice of water molecules collapses and the molecules intermingle, so they take up less space.
We can see this by putting an iceblock in a glass of water, and marking the glass before and after the ice melts—the water level doesn't go up. (Apparently there is an extremely small rise in sea level when icebergs melt, to do with the fact the sea is salty while icebergs are fresh.)
Why does the sea level rise?
As floating ice melts, more sea becomes exposed. Without the reflective white covering, the sea absorbs more heat, and therefore expands. The expansion of the seawater is what is causing the rises in sea level that have been recorded in recent years.
As the sea warms, even more floating ice melts, exposing more sea to the sun's warmth… which leads to more ice melting, which leads to…
Shrinking ice caps
The pictures show it all—these NASA images of the Arctic in 1979, 2003 and 2005 show less ice on the sea (the ice on Greenland and the islands has not decreased dramatically). The ice expands and contracts over the seasons—these images were made at times of least ice for the year.
1979 (from this page)
2003
2005 (from this page)
The Northwest passage
…is a collection of sea routes that run across the top of North America, between the Atlantic and Pacific Oceans.
Up till now only ice-breaker ships could get through, but now it is opening up. In 2007 there were unproven claims it was open to normal ships, and a month ago (August 27, 2008) there were claims it and the Northeast Passage were both ice-free.
To quote the Wikipedia page on Polar ice packs: "On August 27, both the Northwest Passage and the Northeast Passage were ice-free. According to US scientist Mark Serreze, this was the first time in history that both passages have been open at the same time. The North Pole can now be circumnavigated."
And here's an image for 2007, from this page: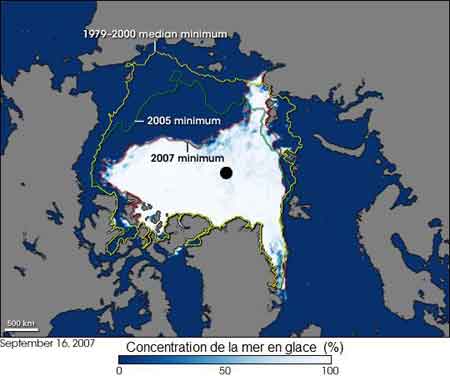 Scientists are suggesting that there may be no summer ice at all on the Arctic Ocean by 2013.
Icebergs
Icebergs come from ice that was formed on land. They are made of compacted ice and snow, and end up in the sea when they have broken off glaciers and ice shelves. (Floating ice made from frozen sea water is called pack ice or sea ice.)
When ice falls from land into sea it causes a rise in sea level because of the water it displaces. The ice sheet on Greenland has broken up a little around the coast.
At the south pole
Things are quite different at the south pole, because it is covered with the huge land mass of Antarctica rather than ocean.
The ice sheet on Antarctica is very thick, and it is very cold—far too cold to melt.
Some ice shelves have broken up in the warmest area (the Antarctic Peninsula), but overall it's thought southern ice is not contributing to rising sea level (though there are some worries about some glaciers in the west slipping away).
The Ektstrom Ice Shelf in Antarctica:
The Earth and healing
I've noticed that some people describe the global changes to nature that are going on as the reaction of an angry Earth to how it is being treated by mankind, with all the mining, bombs, carbon dioxide and so on.
I found a refreshing counter idea to this, in Ken Carey's book The Third Millenium (a channelled book, authored by an angel):
The Earth is dedicated to you. She will make your dreams come true. She will reflect back to you your embodied thoughts.

Those who anthropomorphise the Earth and project upon her the petty attitudes of vengeance do not know their Planetary Home. The Earth has never withheld from you forgiveness for your choices. Forgiveness is extended even in the moment your choices are made.
I'm not sure, really, of what this passage means, but suggesting the Earth has human emotional reactions does seem a bit silly to me.
I'd imagine many of us would like to think we could do something about global warming—for me it's a question of WHAT we choose to do. To me, learning to tune into our intuition and start fullfilling our life purpose is the fastest way we can heal any situation, including problems with global climate. Even if this takes us in a vastly different direction to icebergs and expanding oceans.
Comments are very welcome! ~ Robin