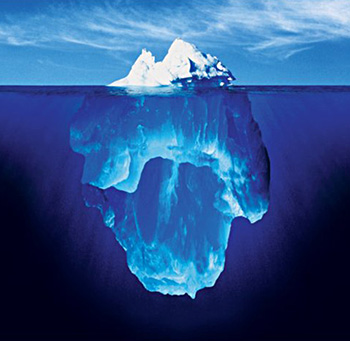 I think it's odd how the overcoming of obstacles is SO admired. We create our own obstacles with our mind, don't we? So why is overcoming something we have created ourselves so admired?
My understanding is that the mind is analogous to an iceberg… 90% of it is submerged. So while we may want, say, prosperity… thoughts in our unconscious mind may well be creating the opposite. Or say we want an easy life… thoughts in our unconscious mind may start putting all sorts of obstacles in our path.

If we really want something and we go for it and don't give up despite the obstacles, well great… let's salute ourselves. But at some point I think it needs to be acknowledged that we did create those obstacles ourselves—there wasn't anything "out there" doing it to us. In fact, acknowledging this actually puts us in a position of power, I think. "I created those obstacles, so now I'll un-create them!"
When I'm feeling overwhelmed by problems of some sort, I always think: "how can I make things easy?" Solutions show themselves, and I can honestly say I have a life that flows fairly easily, with few difficulties. Over the years, friends have said now and then – "Oh Birchy, your life is so easy and uncomplicated" …boy does this annoy me! It is uncomplicated (or whatever) because I MADE it that way! It's not because I don't have kids! Plenty of people who don't have kids run around like chooks with their head off being busy busy busy.
If I talk about the difficulties in my life, I always know I am talking about difficulties I have drawn to myself in some way.
I see other people in the same light. If I hear about how someone has overcome great difficulties, by going though a lot of struggling, it's unlikely I will find it very inspiring. I am much more inspired by hearing about friends' lives that flow easily—they are creating it that way, I think.
* * *
I've probably offended everyone now, but comments are most welcome.