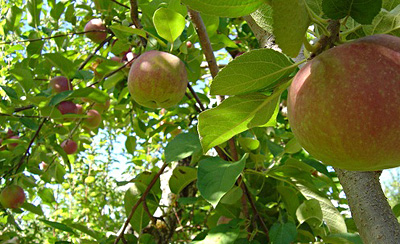 photo by Random Tree
I had a conversation with my mother the other night about the creative process, and I thought ah-hah!… I could write about this.
She was saying how she came up with a poem about apples a few years ago, while driving through apple orchards and then on homewards (she lives in the country). As she kept driving the poem came bit by bit… she said that the words "just slipped in".
I thought that was a great way of putting it, and it's how it happens with me, too. Then I was thinking about how I set things up to allow those words and ideas to "just slip in". Being still or meditative in some way is necessary, but I've also noticed that if I provide a structure for my creative product, the goods are more likely to come to me.
Singin' the blues
I first noticed how structure helps years ago when I was trying to write songs… I found it quite easy to write words to a 12 bar blues. And I think a lot of other people do, too. In fact it's so easy that writing a blues isn't even considered writing a song, really (I mean… there are lots of great 12 bar blues songs out there, but it can also be a bit of a cop-out, songwriting-wise, in my opinion). I realised it was easy because the form is so clearly defined—the words just come. The words of blues are usually about how my baby done left me, or something, but at least they probably came easily to someone.
I even wrote a children's song years ago in the 12 bar blues form, when I was involved with astronomy education at a museum in this fair city. I wanted to write an astronomy song for young children to sing, and was struggling with it. I weakened and wrote it to a blues, but then decided a blues was not really the best choice for young children, so ended up not doing anything with it. It has four verses, but I'll only regale you with the first:
We thought we'd go up to the Moon one day
We'd take our friends Hip Hip Hooray
What did we see? Some great big craters
And not much else, no alligators
We really had a good time
It was quite a blast
But it's sure good to be home at last.
Writing books
Next, after a bit of this and a bit of that, I found myself writing children's non-fiction books—the kind schools buy for their school libraries. Here there was structure for me to fill on several levels. Most obvious was that I had contracts with royalty advances and deadlines—there's nothing quite like the threat of paying back money to motivate you to complete something! I don't think I would have ever written any books if I didn't have a contract first. (I've now had 52 books published and 6 more are on the way.)
Also, when writing these kinds of books, I am told the number of pages, the number of words per page and various other specifics. Having somewhere to slot the words in made it MUCH easier to get creative in ways of covering the topics. I couldn't have done it otherwise, I think.
I also noticed when writing these books, and in other writing, that the rhythm of the words seems to come first, and the words then fill the rhythm in, just like what happens with the blues. For example, a paragraph might go like this:
It would probably start off with a medium-length sentence. Then comes a fairly long sentence with quite a few words and a few phrases in it, to pad it out, because I need an example of a long sentence. Then I write a short one.
So for me the structure comes first and then the words can slip into it. I think a rhyming poem or song is the same… having words that need to be rhymed with brings out ideas we would not have thought of otherwise. I mean… alligators? (I'm not suggesting it's always good!)
Bloggin'
Now I'm doing this blog, and I'm so enjoying being FREE to do what I want with it! I find I've settled on a structure, though. I've decided to post once a week, late Monday afternoon. I'm deciding by Friday what my next post is going to be about, then I write it over Saturday, Sunday and Monday.
When I need to write and nothing comes, I go for a walk around the block (or around several). If I'm really having trouble I try to still my mind in some way. Having a shower is also good (why do ideas always come in the shower when you are wet and can't write things down?!)
Then when I do write, I find the rhythm usually comes first and the words slot in.
Comical capers
I had quite a few appreciative comments about my comic in my last post This Blogging Life! Thanks everyone! Words like "awesome", "brilliant" and even "genius" got used—wow! The thing is, the software I used, Comic Life, provided a structure so the ideas could just slip in.
When you open a document in Comic Life, the first thing you do is drag a template onto the blank page, to get your empty boxes that need filling. You collect images you might use and put them in a folder, then you start dragging them into the boxes. Once you've filled 2 or 3 boxes, it's not that hard to start seeing a story… add a few more pics, move some around, experiment a bit more, and Hey Presto! A comic! It's not like you sit down and think up a whole story and then think up how to make a comic out of it… I'd NEVER be able to do that!
Build it and they will come
All of this reminds me of those words from the movie Field of Dreams where the guy builds a baseball field on a farm, after hearing the words "if you build it, he will come"—and it worked. Maybe we can build structures for our creative projects, on lots of different levels… then the ideas will come.
By the way… I'm not putting Mum's poem in, as much as I'd love to, because I'm not sure about how to handle internet publicity for her, just yet.
* * *
The Green and Gold
The wattle's out at the moment… here are some photos I took on Saturday, in our local parklands. We go there for a walk nearly every day (we didn't go today – too cold! …brrr)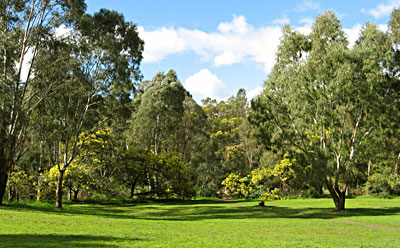 Frank in a pale gold fairyland

and a golden pathway

* * *
Anyway, comments are most welcome! And happy creating everybody!