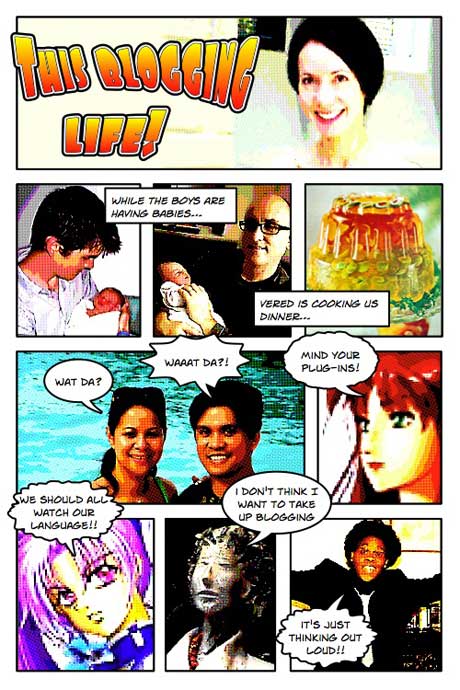 Page 2
and the sequel…
The cast of comical characters above are mostly the visitors who have left the most comments on this blog (calculated with the help of a plugin). Thanks to EVERYONE who has left a comment… to me it's what makes my blogging life worthwhile.
They are, in order of appearance…
Vered from MomGrind
Peter from The Change Blog (thanks for your inspiration!)
Darren from ProBlogger (I'd be NOWHERE without you!)
Chris from Wat da Wat?
Barbara from Blogging Without A Blog
Cath
The Papier Mache Blogger, who hasn't got a blog yet, but has starred in one.
Natural from Thinking Out Loud
Evelyn from Attraction Mind Map
Urban Panther from Urban Panther's Lair
Urbane Lion from Urbane Lion's Den
Al from 7P Productions
Marelisa from Abundance Blog With Marelisa-Online
Shilpan from Success Soul
Ricardo (Ribeezie) from Ribeezie
Davina from Loving Pulse
Lance from The Jungle of Life
Harmony from Golden Zen
Bill from BlogRivet.com
Tom from Delightful Work
Simon from The Secret of Life
Ray (rainer) from The Esoteric Journey
…and if you want to know where the yummy-looking jelly comes from, click here.
* * *
While on the subject of blogging, I experienced a blogger's worst nightmare a few days ago… I DESTROYED MY BLOG! Poof! – all gone… except for some jumbled remnants (I wish I'd taken a screen shot).
I had updated WordPress from 2.5.1 to 2.6, and it worked, but I decided I didn't like it because two of my plugins that I had just spent ages setting up didn't work – so I thought I'd revert to 2.5.1 – Big Mistake. I was using a fancy gizmo that comes with my hosting to do all this.
I emailed my hosting company Little Oak—my message actually included the words "please help me – I'm desperate". I got a reply 20 minutes later saying "Would you like to revert to 2 hours ago or 14 hours ago?" I wrote: "2 hours please", and about a minute later my blog was BACK. PHEW!
I am very pleased with Little Oak—I think I'd describe this as good service. (The gizmo I used actually did warn pointedly that reverting was not a good idea.)
* * *
Also… I've written up a new page How to subscribe by RSS, and put a link to it in the sidebar (in case anyone's interested in such things).
Cheers – Robin