"Sondra's ideas are mind blowing and life altering for an entire generation" ~ Marianne Williamson, author of A Return to Love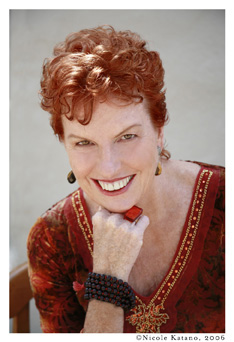 I'd like to write about Sondra Ray today!
Sondra is a rebirther, trainer, seminar leader and author. She travels extensively throughout the world, training rebirthers and leading personal growth workshops, as well as taking groups to India regularly.
It was through Sondra and her work that I was first introduced to physical immortality, rebirthing and many other healing techniques, and writers such as Louise Hay, Shakti Gawain and Ken Carey, in 1986. All of this brought about huge changes in my life, to put it mildly, for which I am very grateful.

Video interview
Below is a video of Sondra being interviewed in July 2007, in a Virtual Light broadcast. It's 25 minutes long, and is mainly about rebirthing and birth trauma—she starts talking about physical immortality at about the 16 minute mark.
If you are at all interested in how birth trauma affects us, I'd encourage you to see through the rather long opening and the sound glitch at the start of the actual interview (and I wouldn't describe the interview as dull). Here's a link to the interview on the YouTube page, if you would rather look at it there, in a new window: Sondra Ray interview
Sondra's background
Sondra started out in nursing. She obtained a B.S. degree in Nursing from the University of Florida College of Nursing and a Masters Degree in Public Health and Family Sociology from the University of Arizona. She was trained as a Nurse Practitioner in Obstetrics and Gynecology, and as a young woman worked in the Peace Corps, stationed in Peru.
By 1974 she found herself with her hair falling out and with various other issues, and she tried rebirthing, with the "founder of rebirthing", Leonard Orr. Together with Leonard and others, she became a pioneer of the rebirthing practice.
Rebirthing
Sondra has been described as the "Mother of Rebirthing", because of her extensive training of rebirthers and her expert knowledge of how our birth trauma affects our lives. Rebirthing is also known as "breathwork" and "conscious connected breathing" (however "breathwork" is also used for other breathing styles).
Here's a small excerpt from the information about rebirthing I found on Sondra's website:
Rebirthing is a breathing process that increases our ability to feel and resolve the effects of our past.

The result is an increase in the level of physical and spiritual energy in our body, thus cleansing the many tensions held there. The result of the physical cleansing is that the mental and emotional origins of tension come back into consciousness and can then be healed. By learning to breathe consciously and fully, we discover and release the core issues now held in our mind and emotions.

Using a deep connected breath for approximately one hour, the Rebirthing process releases stress and tension from the body and accesses and releases stored emotion. The rebirthing breath opens the body's energy channels and accelerates the flow of creativity and intuition.
Seminars
Sondra invented the Loving Relationships Training (LRT), which is a weekend healing seminar/workshop, lead by various different trainers. I attended my first LRT in 1986, and I remember the deep sense of connection I had with everyone and everything around me afterwards—which has never left me. After that I participated in LRT events for about 3 years, one of which was lead by Sondra herself.
These workshops used very creative processes to bring about healing. Sondra still holds LRTs and other events today, all around the world.
Personal life
The latest excitement is that Sondra has recently got married! Her husband Mark Sullivan is a rebirther, teacher, artist and poet, and he travels with her, organises for her and participates in her seminars. They got married in India, and will be living in Tennessee.
Books
Sondra has written 17 books! I've got 8—here's a photo of a portion of my bookshelf:
The large dark blue one towards the left is A Course in Miracles, which I mention because Sondra studies the Course daily and her work is based on it. The next 8 books to the right are Sondra's (or co-authored by her):
• Loving Relationships – the red book, probably more or less her signature book in the early days
• I Deserve Love – light orange, affirmations for loving yourself
• Celebration of Breath – about rebirthing, and has a GREAT chapter about physical immortality
• Pure Joy – Sondra wrote this at Sorrento, just out of Melbourne, which is quite close to where Frank lived for many years before we moved in together. The last chapter is sub-titled 'Finding the Australia within you'.
• Birth and Relationships (with Bob Mandel) – how our birth trauma affects our relationship patterns, and what we can do about it
• The Only Diet There Is – heal anything, including overweight, with a diet of forgiveness (and more)
• Ideal Birth – about birth practices
• Rebirthing in the New Age (with Leonard Orr) – about the early, pioneering days of rebirthing, and though the rebirthing information is somewhat out of date, it's a funny read for anyone who has lived in a share house.
and Sondra's latest book is…
Rock Your World with the Divine Mother
. I haven't read this one… it's about developing, or connecting with, our feminine aspect. The forward is written by Marianne Williamson—here's an excerpt:
I remember first hearing Sondra speak. … In her words and, even more powerfully, in her being, I knew that night I had found a guiding light. … If Sondra writes a new book, I read it. I let go of my left brain and drink her in.
~ from the forward, by Marianne Williamson
I heard Sondra say in an interview that while the artist was designing the cover, there was an earthquake!
Different approaches
As far as I know there are nearly 7 billion people in the world today, and I think there would be about that many ways of both healing ourselves and achieving immortality of the body. We need to find our own individual approaches to these, in my opinion, the same as we do with anything.
My approach to healing and physical immortality is a little bit different to Sondra's… on a superficial level, anyway. As far as I'm concerned, though, her leadership, knowledge, service, love, creativity, humour and plain gutsiness in these areas are fantastic, and for these I am very grateful. Thank you Sondra!
* * *
I'd love to hear what you think about any of this, if you would like to leave a comment below. If you don't have a blog or a website, leave the 'website' box blank.
Sondra Ray and rebirthing links
Sondra's website
Video of Sondra speaking, Part 1 and Part 2 – about rebirthing and more
Podcast interview with Alan Davidson, March 2009, about prosperity
Sondra's books on Amazon
Philadelphia Rebirthing Center
Related post
Why We Sabotage Ourselves – about birth trauma