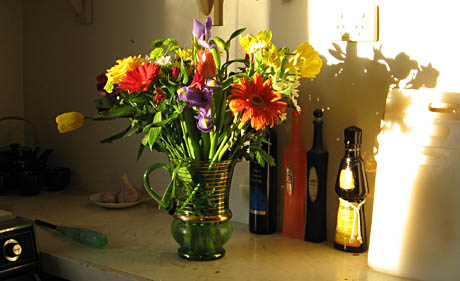 I bought these flowers to celebrate Frank coming home and my birthday – I thought they looked nice in the late afternnon wintry golden light. Mum gave me the glass jug for Christmas after we spotted it together in a second-hand shop in Bendigo.
I've had a fair bit going on since my last post—and I hadn't intended to leave it this long before posting again. Frank (my partner) ended up in hospital for 5 days in mid-June, and the whole thing wasn't exactly fun for either of us. I took him to the emergency department of The Austin late on a Thursday night, and after numerous tests and treatments he was released on Tuesday lunchtime… on my birthday!

It was a fantastic birthday present—not just because we could spend my birthday together at home, but also because he was okay. At the final follow-up appointment last Friday the doctor said to just go home and forget about it… there was nothing wrong with him. We thought this anyway, but it was very nice to have it confirmed.
Distance healing
One thing that Frank said helped him during his hospital stay was the two distance Reconnective Healing sessions I organised for him with my blogging friend Jenny Mannion. Jenny is in upstate New York and we are in Melbourne, Australia. Jenny has written about distance healing in her blog post here: Distance Healing.
For the first session, late on our Saturday night, Frank didn't know about it until I told him the next day, and for the second, late on Sunday night, he knew in advance, and he lay still and told the others he was meditating! He felt a warm glow/energy descending over him during the session, and some other sensations and awarenesses—he felt that it really made a difference.
So thanks Jenny! I met Jenny through blogging and had never heard of Reconnective Healing before starting this blog—I remember saying recently on Vered's mommy blog that the benefits of blogging may not necessarily come through having thousands of readers. I think I have confirmed this for myself very nicely.
Reading material
Another thing that Frank said helped him throughout the whole thing was reading the Life and Teaching of the Masters of the Far East books.
He says he loves these books, and he is on book 3 at the moment. I got off on book 1, but found myself skimming through the others… we are planning to order the last book, book 6, from Amazon soon. On the right is him reading one of them before we decided we had to get him to the hospital—I think the lamps look pretty funny, especially his halo (it was his idea I put this photo in).
Hair-dos
At least Frank's hair looked tidy while he was in hospital, because he had his dreads fixed up by the rasta guy down in Smith Street the day before being admitted. I've had my dreads fixed, too—I figured I may as well keep my hair appointments while I was too distracted to do anything useful. I think my hair looks better—Frank said I look like a little Dutch girl, which I'm not sure is a compliment to the sophisticated woman of the world that I am. He said it was a compliment.
Celebration
So now I am 56! We went down to the pizza place for dinner, and unfortunately were harassed by a woman with mental illness who roams around (we always sit outside), and as we were both feeling rather vulnerable and shaky we didn't handle it as well as we usually would, and things escalated and got very upsetting.
After she was dragged off by the police we ended up having an enjoyable night (she was back 20 minutes later but didn't bother us).
I had tiramisu with a candle and a sparkler for birthday cake and Frank and Rachael the waitress sang Happy Birthday!
Naughty computer… good computer
To top it all off I have been dealing with not one but TWO hard drive failures!
About a week into June my iMac wouldn't start up, and the prognosis from Apple telephone support was that the hard drive "table" was corrupted and I would have to erase the hard drive and re-install the operating system, which I did.
Luckily I had a backup of my home folder and all my downloaded software DMGs on an external LaCie hard drive, which I update with a program called SilverKeeper. I hadn't done a backup for 5 weeks (I'd been getting slack), but luckily all this coincided with my computer break, so I didn't lose much. It took quite a while to get her up and running again… installing this, updating that.
Then 10 days after the first failure it all went pear shaped again! This time it was obviously a hardware failure—and two local Apple guys came around to replace my hard drive. While standing there watching the grey screen as the iMac was trying to start up, they decided that the dark grey smudges in 3 corners of the screen were a warranty issue too, and they could replace the screen too, but they would have to take her away.
Which they did, and after 8 days of me having no computer except for Frank's laptop for checking Facebook, my iMac now has a new hard drive, screen and logic board (the logic board happened last November), and my 3-year AppleCare warranty expires in 3 months time. I can only conclude that this is a good thing!
Except that it is taking me a while to gradually bring everything back (a cleanout isn't such a bad thing, though).
I'll finish up with a photo of me with the caterpillar Frank gave me for my birthday – we had been admiring him in the window of the local bookshop, and Frank went and bought him over a week before my birthday!
Well that's it for me, for now. I'm hoping to be back to posting once a week again, and I'm looking forward to dropping over to my blogging friends over the next few days to see how everyone is going. Cheers!