I'm very pleased to be involved with a publicity event for Guy Finley's book, The Essential Laws Of Fearless Living, which was released last June.
It's all happening today, January 27.
You can go here now to find out what's going on:
http://www.EssentialLaws.org/special/1242/
There are lots of free bonus gifts!

The following is an excerpt from the book:
Any time our attention is given to some thought or feeling, it animates that condition; our attention invests what it falls on with a certain kind of life energy. Another unknown phenomenon about attention is that when it is given to something—for instance, a timeless night sky—it facilitates within us a union with the qualities of that "world". And this dynamic is in operation all the time: to consider something is to be connected to it.
If this is the case, it's probably in our best interests to be careful what we give our attention to!
After its initial release last June, this book became the #1 best-selling title on Amazon.com, in 12 hours. I'm pleased about that, because it shows people are interested in breaking free of fear, and are wanting to be the real, authentic selves they know awaits inside.
Chapter 1
I've read the first chapter—I read it before going ahead with being part of this promotion—and I liked what I found. It begins with:
There is no brighter gift, no greater potential given to us human beings, than the presence of a timeless Light within us whose power makes all things possible. Its celestial character knows we have not been created to live as the captives of any fearful condition, let alone those we unconsciously create for ourselves.
Chapter 1 goes on to give practical examples of how we can reclaim our true selves—for example, this exercise:
Several times each day, whenever you can remember to do it, deliberately disconnect yourself from your own thinking. Choose awareness of your thoughts over being absorbed in the sensations they produce as they carry you along to get what they want.
I think it's interesting that so many people today even think it's possible to become less fearful, and more fulfilled and satisfied with their life. They are willing to see beyond being a helpless victim of random circumstances (e.g. their health, their workmates, the economy) and deliberately choose the world they want to belong to.
The popularity of Guy's book attests to this! If you feel drawn to the writing you see here, you might like to check out today's event. Here's the link again:
http://www.EssentialLaws.org/special/1242/
Here's to a fearless life!
* * *
An illustrated meme
My good friend Dot from Deeper Issues has tagged me for a meme! (To non-bloggers – a meme means a set of ideas, and on blogs it usually means saying things about yourself.)
I don't usually do memes, but I thought I'd make an exception this time. As I'm pretty boring, I thought I'd jazz it up with some pictures!
So here it is:
7 things you probably don't know about me.
1. I used to work as a tour guide, both through the streets of Melbourne, and at the old astronomy observatory here. Melbourne is a Victorian gold city (as in Queen Victoria) – here is the observatory, followed by two of Melbourne's iconic buildings, the old Stock Exchange, on the right, and an 1880s bank on the left.
2. I lived in the country for 4 years, when I first started school teaching. My housemate had a mare and a gelding, then we had a foal – this is me with the gelding, at our house (1978).
3. I grew up in a family who worked as volunteers keeping the Puffing Billy railway going.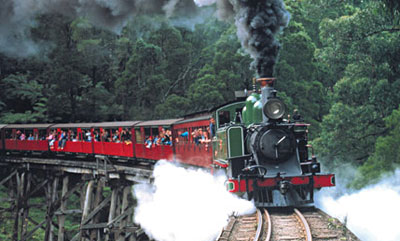 4. My first ever paid writing job was about Melbourne's sewerage system. The original sewerage pumps, installed in the 1890s, were steam ones, so my background in steam engines came in handy. This is the pumping station: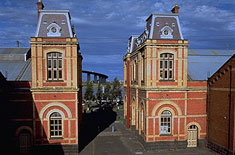 5. I used to play the flute and piccolo. The photo is me in about 1977.
6. I am a fully trained breathworker (rebirther), and Reiki practitioner (level 1). I've never hung out my shingle for either of them – but I am very grateful for the experience of integrating these two practices into my life.
7. My overseas travels consist of visiting Europe for 6 weeks, New Zealand twice, and Bali. And Tasmania and Kangaroo Island – but they don't count.
The idea is that I tag 7 more people to do this meme, but I feel uncomfortable at the thought of tagging people who might not want to do it. So if you would like to do it, consider yourself tagged! If you wish, let me know and I will put your name and link below – to a limit of 7!
Cheers! – Robin