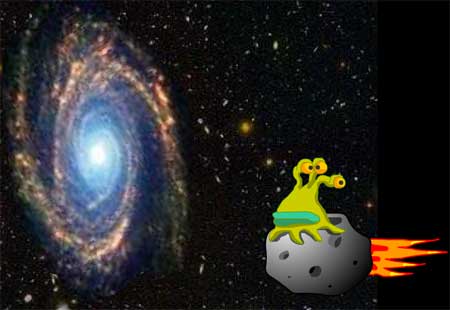 Image from Galaxy, by Camilla Eriksson at Care2
In a convoluted way this post is my contribution to Blog Action Day.

I had a great little video arrive in my email not long ago. It's called Galaxy, and if you are up for some light entertainment, check it out by clicking here. Turn up your sound because the song by Eric Idle is great—there are no volume controls on it and it goes for just under 3 minutes.
It turns out Galaxy is an eCard you can get from Care2, an online organisation that provides a hub where people can support a whole host of causes, such as animal welfare, human rights and environmental concerns, through petitions and lots of other methods.
One of their causes is helping one of their partners The International Medical Corps get $1.5 million to combat hunger, from American Express. They have a blog post about it: Help IMC Win $1.5 million to Fight Hunger

Petitions on Care2 are anything from 'Send unwanted clothes to Africa' to 'Legalize Sugar Gliders in Pennsylvania' (which I was intrigued at because sugar gliders are a native possum here in Australia).
This year's Blog Action Day has the theme 'poverty'. While most of the causes I could see on the Care2 site were not specifically about poverty, I do think these things are related… if humanity can pull itself out of the muck, poverty will be a thing of the past (a bit esoteric, I know, but I said this post would be convoluted).
You can find the Galaxy eCard on this page (they don't appear to give access to the full-window version I've linked to above). If you send an eCard, they say: "For every eCard sent, Care2 makes a donation to an environmental nonprofit to save a square foot of rainforest".
sugar glider by Dawson